---
---
RKMC NY III ASSOCIATE MEMBER
TOM "RHSK" MCLAUGHLIN IN ACTION! Great job Tommy!

Colonie
- Albany Times Union, July 15, 2014
Patrolman
Thomas McLaughlin
was on his way to work Tuesday morning when a tractor-trailer driver had a heart attack and crashed into a tree on 5 Hemlock St. McLaughlin was following the truck and immediately gave the driver medical care. "He was going very slowly," Sgt.
David Leonardo
said. He said McLaughlin "told us he wasn't doing anything wrong, and just drifted off the road." Officer
Patrick Fennelly
also helped care for the man. "They knew what they needed to do, and hopefully saved a life," the sergeant said. The Colonie police station, located in front of the street on which the crash occurred, sent a crew from
Colonie Emergency Medical Services
that arrived in seconds, police said. Paramedics performed CPR until an ambulance arrived. The man was breathing when taken to a hospital, Leonardo said."If you're going to have a heart attack, this was the safest place to do it," Leonardo said. "The officers were glad to help, and would have done it for anyone." It was unclear which hospital the man was taken to. His name was not immediately released. Chuck Digangi, director of property services for Campito Properties, came into work around 7 a.m. to find the crash scene near his job. "We were just extremely concerned about the health of the driver," he said. "There was a truck, and the tree that's usually vertical was horizontal," Digangi said. Damage to property was minimal and no employees were hurt, he said. The truck was removed at about 9 a.m.
---
---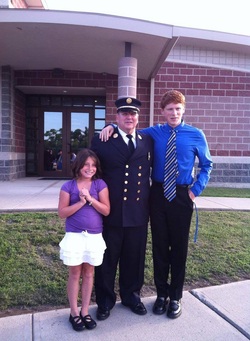 CONGRATULATIONS!
RKMC NY III PRESIDENT
PAT "HUSKY" O'CONNOR

HUDSON MOHAWK VOLUNTEER FIREFIGHTER ASSOCIATION'S
FIREFIGHTER OF THE YEAR!

---
---
Welcome to the
RED KNIGHTS
INTERNATIONAL MOTORCYCLE CLUB
New York Chapter III
Albany, Schenectady, Troy New York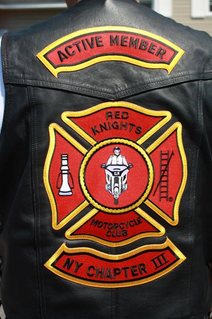 The
Red Knights International Motorcycle Club
was formed in 1983 by firefighters Colin Mackey, Bob Bourassa, Ed Wright, Roger Wentzell, Dave Hamilton, Bob Goulet, David Hunt, Jon Tripp, Don Parker, Norm Beausoleil and Chief Jack Pierce in Boylston, Massachussetts. Started as an organization of Fire Service members and their families who ride motorcycles.
RKMC promotes motorcycle safety, projecting a positive image of motorcycles, and enjoying the fraternity of Firefighters. Our membership consists of Career, Part-Paid, Volunteer, Industrial, Disabled and Retired members of the Fire Service. We welcome all brands of motorcycles, from full dresser Harleys to sport bikes, a.k.a. Crotch Rockets.
We encourage participation by your spouse and family at all club functions.
Today, there are over 300 Chapters of RKMC, 9,000 members and growing in 41 states as well as Canada, New Zealand, Netherlands, Denmark, Germany, Switzerland, England, Australia, Ireland, Belgium, France, Luxemborg, Wales, Serbia, and Austria.
---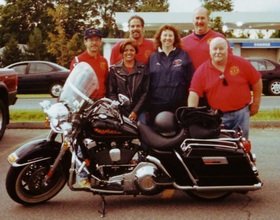 Charter Members Piccione, Szary, Vogt, & Barber
New York Chapter III was formed in March 2000. Firefighter Dave Szary, from Westmere Fire Department, had seen the Red Knights MC at Americade in Lake George. He knew of several other firefighters in the Westmere FD that owned motorcycles and approached them with the idea of forming an Albany, NY chapter. Inviting a couple of friends from McKownville Fire and North Bethlehem Fire, Red Knights NY Chapter III was chartered by Red Knights International MC in April of that year with a total of 7 Charter Members (Dave Szary-President, Charles Cahill-VP, Mike Barber -Secretary, Howard Meirek-Treasurer, Tony Vogt-Ride Captain, Steve Albert, and Anthony Piccione). Today, the Chapter has grown to over 80 members, Active, Social, Associate, and Honorary.

---
Red Knights Mission Statement
The Red Knights share the common interest of motorcycling, promoting motorcycle safety, and the brotherhood of firefighting. They provide support to various non-profit charities across the United States and Canada.

Red Knights Motto
Loyal to our Duty

Defending our Freedom!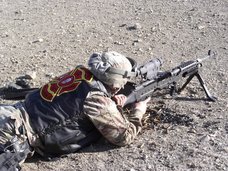 Red Knights Active Member,
SPC Aaron Jennes
sporting his colors upon the colors of the United States in Afghanistan. We're proud of you, brother, and welcome home safe!
---
---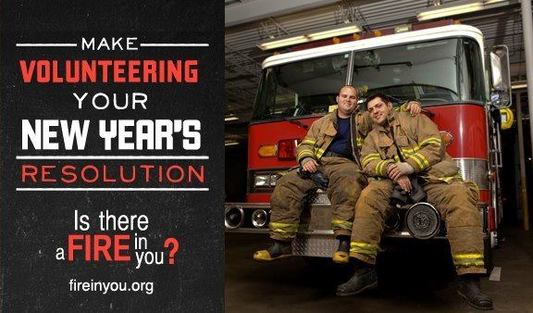 ---